Why « MK Kitchen » and not anyone of the others fabricants?
There where loads of them, who wanted to cooperate with us, great ones, with HUGE prices ! Our long experience over years shows us that it turns out to be very difficult to receive great service from the so called « Big ones » long established on the market !

MK is a producer who combines Quality, Design and Flexibility. Inovative and patented processing and techniques in combination with the best raw materials turn MK Kitchens unique. Almost anything is possible.

It is defiantely not the versatility or the quality which makes you pay more at our concurrents, but what might it be then? Maybe the Name? Please visit our showroom to see and feel the outstanding quality of the MK Kitchen by yourselves.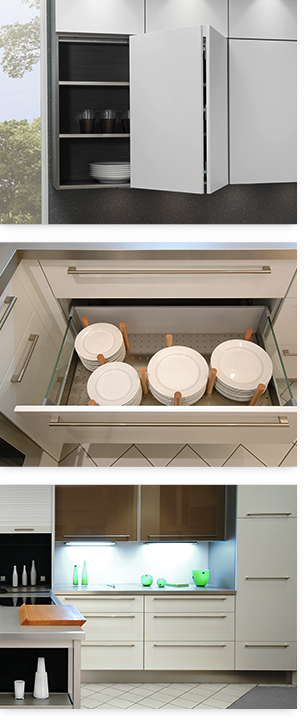 Flexibility
You can match the colour of an MK Kitchen easily with your livinroom. It does not really matter if it will be a trendy colour or a classic colour. MK Kitchen offers the slightest colour shades. If this would not be enough we do offer the possibility to accentuate the edges with a different tone. If you do not like a deco front we can offer as well a varnished front in any colour shade. You just need to supply us with a model and we will be able to mix the colour accordingly. We can offer varnished fronts in matt or glossy or even structured.
Drawers & Articulation
Our drawers can be built on request with enhanced metal laterals or glass and a "double-railing" can be obtained too. Therefore the inside look is varying. Airmatic shock absorbers ensure a smooth and noiseless opening of the drawers. Depending on the model, the drawers could be charged with up to 80 kg.
Corpus
The thickness of the corpus measures 19mm. All parts, and not only the fronts, are been made up out of 19mm thick panels (normal is only 16mm) and with 2mm strong ABS-edges. A tougher stability is hereby given fort he cupboards and the mounting mechanism. On optional request we can deliver all top cupboards, insides and outsides, in any colour. The strength of the back panels of the top cupboards, which are hanging on the wall, amounts as well to 19mm.
Perfection as well on the backside of the cupboards:

On request we can deliver those hanging cupboards with the 19mm back panels notched and bold together. The hanging cupboards are securely mounted on metal rails. The suspension mechanism is hidden behind the back panels and is not at all visible from the outer side.
Unique fitting of the sink unit
This manner described enables you to fit the sink without any joints and to have completely flush mounted with the worktop. The edge of the sink is not situated below the worktop but exactely in the same height. We guarantee an absolute denseness. No other kitchen supplier is able to offer you this in such a perfection.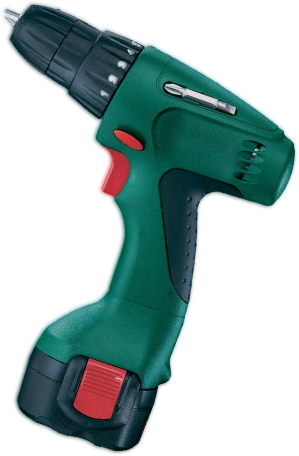 Assembly
That's what we care about. And therefore
the assembly is only be undertaken by skilled carpenters, who have years of experience in kitchen assembly. Our fitters are in a continuous life long learning process and new techniques are provided by regular courses. We don't save money on poor tools and only use the best on the market. We will be able to carry out some small plumber and electrical works. The client is king and we do understand that a satisfied customer is a returning customer.
Many thanks for those people who do recommend us.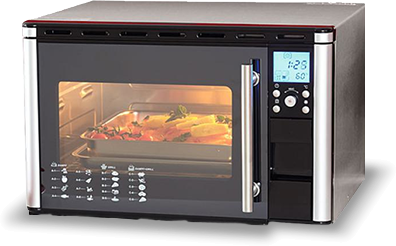 Steam-Oven
A steam oven is a "Must have" for a modern kitchen. There is nothing more easy to learn cooking regardless if you are using it as a single, housekeeper or the whole family. Every 6th week our clients are offered a complete presentation, which turned out to be a great success.
We will spend together a cosy evening in our new premises in Bertrange. You shall show up at the venue with a great appetite and a good mood. We will provide for the remaining !!

In the demonstration you will see a combi-steamer from Electrolux, which means a combination of a "normal" oven with a supplementary steam function. You would not need a water hose connection.

You could therefore exchange your old oven with a steam-oven combination. You can use our online form in order to subscribe (Attention, there could be some waiting time due to the great success) So let us cook more healthy and try together with us of what does it tastes like.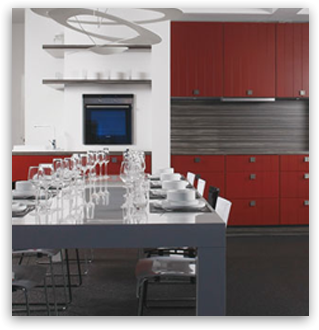 Deals
Best prices ever for the Sale 2021! More Information and the brand new trends for 2021 now in our store in Bertrange!

Ho do I proceed ?
Here you will be informed what exactly to do in case you just newly built or just intend to renovating your existing kitchen. It takes about 12 months in Luxembourg to built a house.
As soon as you have received the building plans you can start to plan your kitchen as well. At this early moment it still will be time to move a foreseen wall at a different place or to built a window slightly higher and possibly get hidden all those hoses from the extractor hood into the wall and floor fill.
These two important parameters could just be changed at the very beginning and therefore adds value to a greater design and functionality of your Dreamkitchen !
What do we need?
In the case of a newly built house we just need the building plan of the specific area. If you wish we can have a close look at the place itself.
After you have ordered the kitchen we will anyway show up at your place in order to do exact measuring.
Ho do we plan?
Once you show up at our place we can hit the road instantly. Our Art Directors manually draw your ideas as a gross layout on a piece of paper ! At this very moment you choose your colours, materials and other electrical equipment. After that stage we will computer draw a technical plan in colour and full 3D. With these high quality print outs we can simulate how you kitchen will later look like in real.
What's about our cost estimate?
You will receive a complete presentation map with all the plans in photo quality and all the details together with a pricelist.
What happens after your order?
You will receive an order confirmation together with all the technical plans of your kitchen.
Delivery times and assembly
Under normal circumstances it will take us 8 weeks to deliver. If you order an extraordinarily kitchen, like the Wave T.S.. model, it could take a little bit more. If you are really under time pressure we will go a step further and try to get delivered the kitchen quicker as normal. (only for certain models and on demand)
Tips and Tricks
The specification book usually names only the minimum necessarily electrical connectors for your kitchen. If you would need more afterwards the cost would be exorbitant. Therefore possibly plan more than foreseen it could save you money in the end.
It is important the painter does his little reworks after all the furniture is on its place. If there are little damages, he can repaint them easily afterwards and does not have to do it twice.
There are many communes or municipalities who do pay a premium for the purchase of A-Class electrical equipment (washing machines, tumble dryer, etc) Depending on the commune it could vary between Euro 40 and Euro 65. Just call and ask your local authority. With these A-Class electrical equipment we do lower the CO2 emissions and not only take care of the costs but as well generate a positive impact on our environment.
There are distributors who even do not provide plans to the customer or do not list details on the cost estimate. A control of what exactly the offer means turns out to be very difficult. Close behind borders they sometimes even ask you to pay even before you will get anything. Really strange, isn't it. We do not have anything to hide and we will provide you with all you need.

Customer Service 24/24
Please contact us by email!